Hotel overview
It's regarded one of the world's greatest rail journeys and a true national treasure. The Ghan has captivated travellers since its inaugural journey in 1929 and continues to be a top choice for travellers seeking authentic Australian adventure with all the comforts and luxury that come with travelling by rail.

Across three days and two nights, the famed journey offers a unique insight into the spectacular and ever-changing Outback landscape between Darwin, Alice Springs and Adelaide.

If you choose to depart from Adelaide, it's a brief journey through the city outskirts before the horizons expand over South Australia's agricultural heartland. The rugged 540 million year old Flinders Ranges emerge from the distance as the train winds its way to Port Augusta, the crossroads between the Flinders and the rest of your Outback adventure.

A key stop on the journey is a town enshrined in Australian lore - Alice Springs. Guests of The Ghan can take up complimentary tours that include riding a camel, visiting the town's famous landmarks or encountering some of Australia's most unique flora and fauna.

Upon waking the following morning, you will find yourself in a land of soaring sandstone cliffs, lush forests and rich Indigenous culture. The ancient mysteries of Nitmiluk Gorge in Katherine are yours to explore through one of three complimentary Off Train Excursions exclusive to guests of The Ghan. By early evening, your journey reaches the tropical centre of Darwin, where your adventure in Australia's Top End is just beginning.

This incredible rail journey can also be experienced from Darwin to Adelaide - the ever-changing scenery makes the experience unique every time.

Thanks to the recent introduction of all-inclusive travel with Great Southern Rail, your Platinum or Gold Service fare now includes all on-board refreshments including soft drinks, beers, high-quality wines and base spirits, as well as a superb regionally-based menu with flexible meal times.

The Ghan operates twice weekly between Darwin and Adelaide via Alice Springs in July and August and runs weekly year-round (except December and January operating fortnightly).
Types of Rooms
PRIVATE CARRIAGES - THE CHAIRMAN'S CARRIAGE:
For the ultimate great train experience aboard The Ghan, travel in one of the stylish, self contained carriages between Adelaide and Darwin.   
The Chairman's Carriage is the pride of Great Southern Rail's fleet Accommodates up to 8 guests   
2 double bedrooms sharing 2-way bathroom and 2 Twin Cabins with adjacent bathroom facilities   
Generous lounge with CD player, DVD and video entertainment  
Private dining room   
Fully equipped kitchen   
Guests dine either in the Queen Adelaide Restaurant or within the Private Carriages with an additional surcharge to apply if in-carriage catering is specifically requested  
Dine in The Chairman's Car dining room with meals prepared by your own dedicated chef (extra cost)   
Private charters can be arranged from Adelaide, Alice Springs or Darwin
PRIVATE CARRIAGES - SIR JOHN FORREST CARRIAGE:
The Sir John Forrest Carriage is named after the explorer made famous for the first crossing of Western Australia by land in 1870. Follow in his footsteps across the Nullarbor Plain, travelling in the comfort of this modern carriage.    
Accommodates up to 6 guests   
1 double bedroom with ensuite bathroom. 2 Twin Cabins with ensuite facilities   
Additional bathroom   
Kitchenette/ bar and generous lounge area   
Leather loun
ges and large picture windows   
Big screen television, video/ DVD, powerpoint screening facilities
Meeting area with boardroom table (seats twelve)   
Guests dine in the Queen Adelaide Restaurant   
Perfect for small meetings and entertaining guests   
Private charters can be arranged between Adelaide and Darwin
PLATINUM SERVICE:
When you travel Platinum Service you'll experience the very best The Ghan has to offer.
Spacious private lounge style cabins  
Premium ensuite cabin with twin or double bed  
Panoramic views to each side  
Personalised cabin steward service  
Generous luggage limit (3 x 25kg)  
Outback Explorer Lounge and Queen Adelaide Restaurant access  
Off Train Excursions  
All onboard meals including breakfast, lunch and dinner
Breakfast served to you in your cabin if you choose  
New regional based menu  
Standard wines, beers, spirits and soft drinks included  
Private transfers to and from your journey (up to 50kms)
Spacious private cabins, each with a full ensuite, are part of the Platinum Service experience. Almost double the size of Gold Service cabins, they have premium fittings, a shower, vanity with ample cupboard space, mirror, toilet facilities and an in-cabin safe.
Panoramic windows give you the best seats in the house for watching the world roll by. Each cabin also features an interior window, allowing views from both sides of the train, so you won't miss a thing.
During the day, your cabin will be configured as a private lounge, with deluxe lounge seating, a table and two ottomans. By night, they convert to a comfortable bedroom, with either a double bed or twin beds.
Platinum and Gold Service guests can choose when they dine in the exclusive and elegant Queen Adelaide Restaurant Car, where a new regional based menu is prepared by on-board chefs.
Three meals a day are served: full or continental breakfasts, sumptuous lunches and a la carte dinners. Special dietary requirements can be catered for and should be requested at the time of booking. Meals are accompanied by a selection of fine Australian wines, or other beverages.
Platinum Service guests also have the chance to explore parts of Australia along the rail line on Off Train Excursions which are included in the fare. Get to know the Top End town of Katherine and legendary Alice Springs.
Luggage allowance for all Platinum Service guests now is very generous with three pieces of luggage included, weighing up to 25kg per piece.
To top-off this five-star experience, Platinum Service guests are provided with private transfers at the start and conclusion of their journey.
With in-cabin steward service, music, journey commentary, and much more, Platinum Service is designed to make your rail adventure truly unbeatable.
Platinum Cabin by Day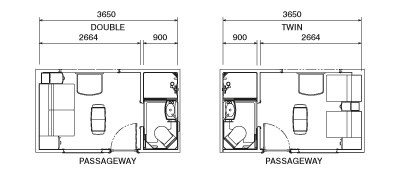 Platinum Cabin by Night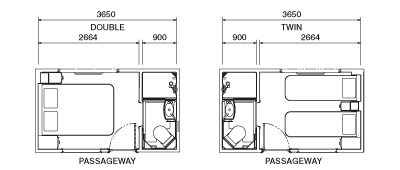 GOLD SERVICE:
During the day, the compact Twin Berth Sleeper Cabins offer a comfortable three seater lounge, converting to an upper and lower sleeping berth at night. Your train journey through Australia will be made even more comfortable with service from your hospitality attendant including fresh sheets, bath towels, pillows, doonas and complimentary toiletries. Twin Berth Sleeper Cabins have private en suite facilities with a hide-away compact toilet, wash basin and shower.
Single Berth Sleeper Cabins feature a comfortable lounge chair and foot rest by day and a single level sleeping berth by night. Cabins are fitted with a wash basin. Showers and toilets are located at either end of the Gold Service carriage.
Gold Service features include:    
Compact sleeper accommodation   
Stylish Restaurant Car dining included in your fare, with freshly prepared, delicious meals and waiter service   
Lounge Car for relaxation and refreshments   
Cabin Steward service   
In-cabin music and detailed journey commentary available from your cabin sound system   
Complimentary toiletries kit   
Free 'Platform' magazine   
Complimentary tea and coffee available during your journey Gold Service Concession Fares available
GOLD SERVICE SUPERIOR CABIN:
If you'd like some extra space and comfort on your train journey on The Ghan, the Gold Service Superior Cabin features a 3/4 size double bed and an additional fold-down single bed. It has its own lounge area with a table, armchairs, a well-stocked bar fridge with complimentary refreshments, your own private DVD player and a range of finer appointments to make your journey even more special. A surcharge of $895 applies per cabin per night and you'll definitely need to book in advance.
Please contact us to find out more about Gold Service Superior Cabin inclusions and availability.
LUGGAGE FOR PLATINUM & GOLD SERVICES:
Due to cabin space constraints, it is recommended guests take an overnight bag containing all requirements for their journey in their cabin and check in all other luggage. Guests are permitted to check in a maximum of 50kg of luggage free of charge for Gold (two items not exceeding 25kg each) and a maximum of 75kg of luggage free of charge for Platinum (three items not exceeding 25kg each). Checked in luggage cannot be accessed during the journey.
RED SERVICE:
On the great train journeys, even the most economical level of travel offers a comfortable alternative. The Red Service Day/Nighter Seats are two-abreast reclining chairs that can swivel to face each other if you'd like to socialise. You can take in the views or relax with a drink and a meal in the Red Service Diner.To make the most of the space available, there's plenty of room for your hand luggage in the overhead racks.
Red Service Day/Nighter Seat features include:      
Recliner lounge-style chairs with ample leg room and individual reading light. Travel pillows and blankets available for purchase 
Access to the Red Service Diner offering meals, snacks, alcoholic beverages and soft drinks for purchase   
Shower and toilet facilities available at the end of your carriage
LUGGAGE FOR RED SERVICE:
Due to cabin space constraints, it is recommended guests take an overnight bag containing all requirements for their journey in their cabin and check in all other luggage. Guests are permitted to check in a maximum of 40kg of luggage free of charge (two items not exceeding 20kg each). Checked in luggage cannot be accessed during the journey.
FACILITIES
PRIVATE CARRIAGES, PLATINUM & GOLD SERVICES:

Queen Adelaide Restaurant Car
Platinum and Gold Service guests dine in the classically styled Queen Adelaide Restaurant Car. Each meal offers a choice of fine food, carefully prepared for you by the onboard chefs. The seasonal menu features mouth-watering dishes such as saltwater barramundi and grilled kangaroo fillet.

Gold Service fare includes hearty breakfasts, two course lunches and three course dinners. Vegetarian, children's and limited special dietary meals are available when you make your booking. You may also choose to complement your meal with the selection of wines and beverages.

The Outback Explorer Lounge
A short stroll from your sleeper carriage is the cosy, club-like Outback Explorer Lounge. Often the centre of activity on the journey, the lounge is ideal for socialising with your fellow travellers from around the globe, relaxing, reading or just enjoying the picturesque scenery.
RED SERVICE: 
Matilda Cafe
If you're in Red Service, you have access to the Matilda Cafe. This is a great place to take in the ever-changing view from the panoramic windows, or perhaps enjoy a drink or two while socialising with friends, new or old. The Diner offers affordable and tasty light meals, snacks and drinks for purchase.